Eisenhower Fellowships is a private, non-profit, non-partisan organization created in 1953 by a group of prominent American citizens to honor President Dwight D. Eisenhower for his contribution to humanity as a soldier, statesman, and world leader.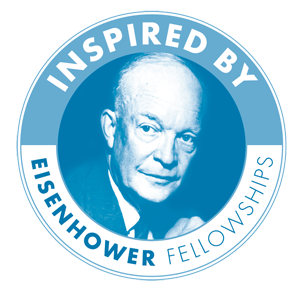 Chaired by Colin Powell, the Fellowship programs select 8-10 US citizens and 20 International Fellows for 2 Months of in-depth research with unparalleled access.  The organization engages mid-career (age 32-45) professionals from around the world to enhance their leadership skills, broaden their network of contacts, deepen their global perspectives, and unite them in a diverse, global community where dialogue, understanding and collaboration lead to a more prosperous, just and peaceful world.
Seeking to foster international understanding and leadership through the exchange of information, ideas and perspectives among leaders throughout the world.
Each Fellow receives an individualized five to eight week program of consultations with experts and senior officials in government, industry, academia, the arts and the not-for profit sector.  Fellows are identified by blue-ribbon committees in 48 countries and four U.S. locales (New England, Philadelphia, Research Triangle-NC and St. Louis). They identify men and women who have demonstrated significant achievement and are poised to assume positions of substantial influence in their fields.
Since the organization's founding, nearly 2,000 men and women have been awarded fellowships, forming a global network of leaders. Alumni Fellows are located in over 100 countries, including heads of government, cabinet-level officials, national legislators, provincial governors, university presidents, and CEOs of corporations and nonprofit organizations who engage with other Fellows and with other members of the Eisenhower network.
Chairman: Eisenhower Fellowships
A dream doesn't become reality through magic; it takes sweat, determination and hard work.

- Colin Powell
A retired four-star US Army general that served as the 65th United States Secretary of State from 2001-2004, Powell persists today as a highly regarded leader who currently reinforces the importance of accountability and empathy through high-profile speaking engagements.  Prior, after serving two tours in Vietnam, Powell's decorated military career included National Security Advisor (1987-89), as Commander of the U.S. Army Forces Command (1989) and as Chairman of the Joint Chiefs of Staff (1989–93) – the first and thus far only, African American to serve on the Joint Chiefs of Staff. A writer, an engaged grandfather and an aficionado and mechanic of old Volvos – Colin Powell is a national hero who tops my list of global statesman icons I'd hope to share a pint.
---
Chairmen Emeriti & 2015 Eisenhower USA Fellows
Joshua Baer, Founder and Executive Director of Capital Factory
David Bray, Visiting Associate on Cyber Security and Culture at the University of Oxford, Chief Information Officer for the FCC
Stacey

Chang

, ED at the Design institute for health at University of Texas & past Managing Director for Healthcare for IDEO LLC
---
Eisenhower Fellowships: Netherlands Chapter

orchestrating fellowship access
May 2015, my 3 week fellowship program in the Netherlands & Brussels consisted of 38 meetings with 60 different contacts – all with unique expertise related to food, agriculture and trade. The entire program was masterfully orchestrated; from design, implementation and execution – the white-glove experience was second-to-none.  The attention to detail of each and every meeting was only rivaled by the quality of each contact met.  A personal guide was often provided for heavy travel days – sourcing expertise of subject matter of the day, as well as logistics to remain punctual.  Access to this type of quality and in-depth knowledge gained from each influencer was a true marvel and life-altering experience.
I was was overwhelmed by the breadth and quality of each farm visit, meeting with heads of industry, university, State, Cabinet or Union;  I met a true pioneer in feed research, the guru of water, experts in fields of circular agricultural impact & soothsayers describing how sustainable agricultural practice is the cornerstone to mitigating climate change; leadership from trade unions, COOP executives, and many thought-leaders defining a future food system that utilizes best animal welfare practice as the financial pillar to systematically clean a food system.
.
Grande Dames of Eisenhower Netherlands
I've come to the realization that I'm only the reporter here, the authors of the program are instead the Grande Dames of the Netherlands – the highly accomplished woman leaders involved in the Eisenhower Fellowship program that are doing fantastic things domestic and abroad.  As detailed in each chapter of all 6 essays, I had unparalleled access, and realized my opportunity to better the food system was unique.
The 2015 Eisenhower multi-national Fellow from the Netherlands is Prince Constantijn van Orange-Nassau.  Prior to April's opening week that gathered all 2015 US and multi-national fellows in Philadelphia, the same week he began his 2 month program through-out the United States, Constantijn had helped arrange for me numerous meetings for the month following in Brussels and Amsterdam.  During our time with the other 2015 class of fellows at the Eisenhower Fellowship headquarter in Philly, I truly enjoyed getting to know Constantijn.  A very smart, funny and down-to-earth guy – I look forward to continuing our conversations as we seemed to share many areas of interest. He like me, now owes a great deal of gratitude to these influential Grande Dames of the Netherlands who selected and nominated him for the fellowship program.
It was a masterfully choreography program at every turn. I was well briefed on company & contact for all meetings, as was each and every meeting counterpart up-to-date on my fellowship program goals & background. I received access to highest regarded experts in my field of interest and the program excelled in meeting quality & cadence thanks to the leaders of the Eisenhower Fellowship Netherlands chapter, and the diligent work of Lia & Rick at Atlantic Pacific Exchange Program (APEP); I'm forever in their debt.